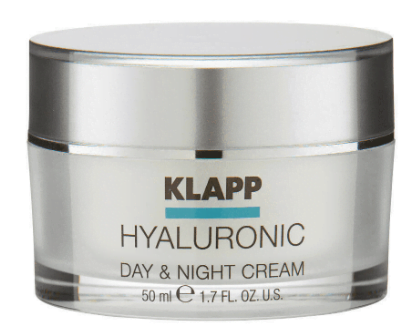 Active Ingredient: hyaluronic acid used in different sized molecules
The ingredients of the Klapp Hyaluronic products are well chosen. Two of the most important ingredients are triple-active hyaluronic acid complexes and the firming active ingredient Quicklift™. The contained hyaluronic acid refills the skin's own moisture depots through an intelligent multiple-stage system. The invisible, tightening matrix contained in Quicklift™ is quickly absorbed by the skin, leaving the skin with visible wrinkle smoothing and firming effect.
In addition, Vitamin E and Various oils (jojoba oil et.ac) are also included in this active ingredient composition can help prevent premature aging and promote skin regeneration reduce irritation and redness.
Because of the intelligent selection of active ingredients, Klapp hyaluronic multiple effect products have been getting the top rating review.
Penetrate Deeper
The texture of the Klapp Hyaluronic Day and Night product is relatively firm. It is very easy to apply and rub in, releasing the hyaluronic acid gradually into the different layers of the skin. The skin looks smoother and firmer. It was quickly absorbed into the skin without leaving any residue. It does not stick or run. Good homogeneous product
The Best Hyarulonic Skincare products:
KLAPP HYALURONIC Day & Night Cream 50ml
KLAPP HYALURONIC Day & Night Serum 50ml
KLAPP HYALURONIC Face Protection Cream SPF 30 50ml
KLAPP HYALURONIC Eye Care Roll-on 10ml & Day & Night Serum 50ml